Throughout this season of Advent, we will be going through the first chapter of Luke — the most detailed account we have of the events leading up to the Jesus' birth. While we'll certainly remember and celebrate what happened, we believe that God is wanting to conceive of something new in our church today. Just as he radically changed the landscape through the birth of Jesus, he wants to radically change the landscape through a new work of the Spirit in our church today. There will be miracles, disruption, much waiting, and the promise of new life.
---
Women's Lunch & Bible Study 
Ladies, study one of the most practical books in the Bible and have lunch with a group of friends: what's better than that in the middle of your week? God's Lunch Bunch begins a study in the book of James, tomorrow (Nov. 28) at 11:00 a.m. in Memorial Hall. Women of all ages are welcome!
Share a Toy! Share the Joy!
Crosslines provides more than 30,000 brand new toys to local children each year, and they need our help! Please pick up a Toy List off the windows by the entrances to the sanctuary, and purchase those designated toys. Bring them unwrapped to the Fellowship Center and place under the Christmas Tree no later than Sunday, December 9.
---
Get a head start on feeding your soul for the new year!
Come join our 4-week class to learn how to building a healthy foundation for your body, mind, and souls through food. Soul Nutrition will be looking at balanced nutrition, budgeting, meal planning, cooking, and mindful eating. Jesus tells us that our bodies are a temple, but we don't always treat them that way.
Wednesdays @ 6:00 p.m.
November 28 – December 19
in Memorial Hall.
When you've found Schweitzer is the place where you can live out your discipleship, come participate in our membership class. This one-session class will let you explore more deeply our core beliefs, values, and membership covenant. Take the next step and join us, 12:00 p.m., this Sunday, December 2, in Memorial Hall. Food and childcare are provided. 
---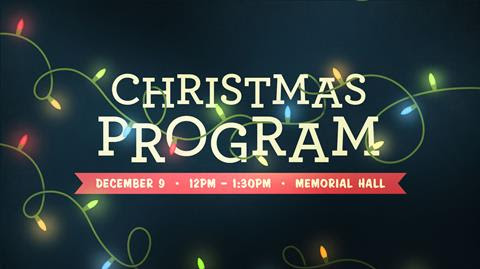 Bring your kids and families to celebrate Christmas with lunch, music, and a puppet show!
Sunday, December 9
12:00 Noon – 1:30 p.m.
Starting in the Sanctuary
---
Our staff here at Schweitzer has been focusing on becoming more aware of what is going on in our community this fall. In October, we visited and toured the Greene County jail, gaining more information about the current and future accomodations for inmates. In November, we visited Mercy Hospital, learning more about their beautiful chapel and hearing a presentation on ways Mercy is moving forward.
---
Hannah Loder and the Youth Mission Team traveled to Chicago, IL this past summer to lend our support to a homeless shelter there, Pacific Garden Mission. As we volunteered, Hannah found a big need within the ministry there. Many of the pillows were inadequate for anyone to sleep on. And some beds didnt' even have a pillow on them. Hannah Loder and the youth are teaming up to collect new pillow cases and pillows for the 1,000+ men, women, and children that use Pacific Garden Mission as a safe and warm place to stay during these cold winter months in Chicago. We would love your help with providing pillows and pillow cases for the people of Pacific Garden Mission. 
---